TAMPA — For 10 years, Cesar Hernandez has been thinking of ways to move Tampa into the future with help from Latino talent and investment.
The transformation is underway, Hernandez said, but he wasn't seeing the Latino involvement.
"To do so," he said, "you have to start with a successful tool."
A public affairs strategist, Hernandez, 33, started meeting a year ago with Latin-owned businesses, local investors, and startup founders, seeking ideas on how to build an organization and encourage innovation.
The result is the Tampa Bay Latin Chamber of Commerce, launched last month with offices in downtown Tampa's Park Tower.
The new chamber has 40 member companies so far and aims to expand across Hillsborough, Pinellas, and Pasco counties.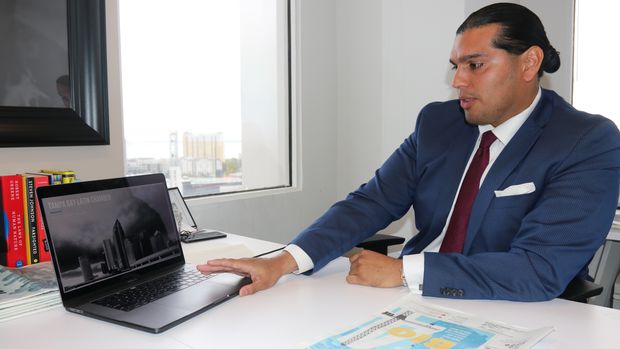 "In this age of disruption, where technologies are the great equalizer, Latinos or people coming from disenfranchised communities don't have the same level of access to resources to back their own companies," said Hernandez, president of the chamber. "And that was the trigger for me."
The new chamber looked at other organizations to avoid overlap and believes it has found its own niche.
"We found a gap that other Hispanic organizations aren't following — capturing the future growth of markets in Tampa Bay and beyond," he said. "We want to bring them so they can grow skills and potentially move to Florida and Tampa Bay."
The group will sponsor business showcases and networking events, the bread and butter of business chambers, but also plans to start a tech accelerator to help recruit top startups locally and from regions across the world — Latin America, the Iberian peninsula and West Africa, among them.
There also are plans to help boost tech services for Latin businesses and to help them deal with government processes.
"We are trying to build the CEO of the future," said Hernandez, who worked as a government affairs specialist for Hillsborough Area Regional Transit and as a community engagement officer with the University Area Community Development Corp.
He now works with the public relations agency he founded, Omni Public in Tampa.
Tampa has earned Top 50 status as a place to start a business from business advisers such as Business.org and Another Source. They point to accelerators like Tampa Bay Wave and the Embarc Collective, a new innovation hub founded by Tampa Bay Lightning owner Jeff Vinik.
Among those joining Hernandez in the new Latin Chamber of Commerce is Erik Maltais, a Peruvian-American entrepreneur who leads the tech startup Immertec — a virtual reality company that trains physicians and surgeons remotely. Maltais, 36, is chairman of the Latin chamber's innovation committee.
"I'm excited to enroll others in this new world of possibilities for the region," Maltais said.
Hillsborough already has the Hispanic Chamber of Commerce of Tampa Bay, founded in 1975 and now boasts 296 members. The Hispanic chamber emerged in 2013 from the merger of two other chambers — the similarly named Tampa Bay Hispanic Chamber of Commerce and the Latin Chamber of Commerce of Tampa Bay.
Diane Cortes, president of the Hispanic chamber, welcomed the new organization, saying steady growth in the region's Latin population demands different business approaches.
"Everyone benefits," Cortes said. "Another chamber of commerce should not be an obstacle for anyone. It allows us to cover more land."
But one economic driver heading this way shows how the old and new chambers might overlap: Both groups have scheduled workshops this week with LaKendria Robinson, the business outreach director with the host committee for Super Bowl 55 in Tampa next February.